EasyCheck 360® detects Circulating Tumor Cells (CTCs), which our research has shown to be present in most types of cancers. Our studies have shown that CTCs are detectable even in very early Stage 0 (in situ cancers) as well as Stage I and Stage II malignancies. CTCs are detected across all solid organ tumor types and subtypes, in men and women. CTCs do not exist in individuals without cancer. CTCs are undetectable in the blood of patients with non-cancerous (benign) tumors. CTCs, therefore, have high accuracy for the detection of cancer.
EasyCheck 360® is an advanced non-invasive blood test which provides evidence of an underlying malignancy using a safe, simple and quick blood draw. EasyCheck 360® is designed to detect CTCs, which are cancer cells that escape from the tumor and enter the blood stream. EasyCheck 360® enriches these CTCs from the blood sample. These cells are characterized by 'Immunocytochemistry' (ICC). A positive CTC finding is indicative of the presence of an underlying cancer whereas, if CTCs are not detected, the individual is unlikely to have cancer*.
*Please see detailed specifications (white paper) for Sensitivity and Specificity of EasyCheck 360®.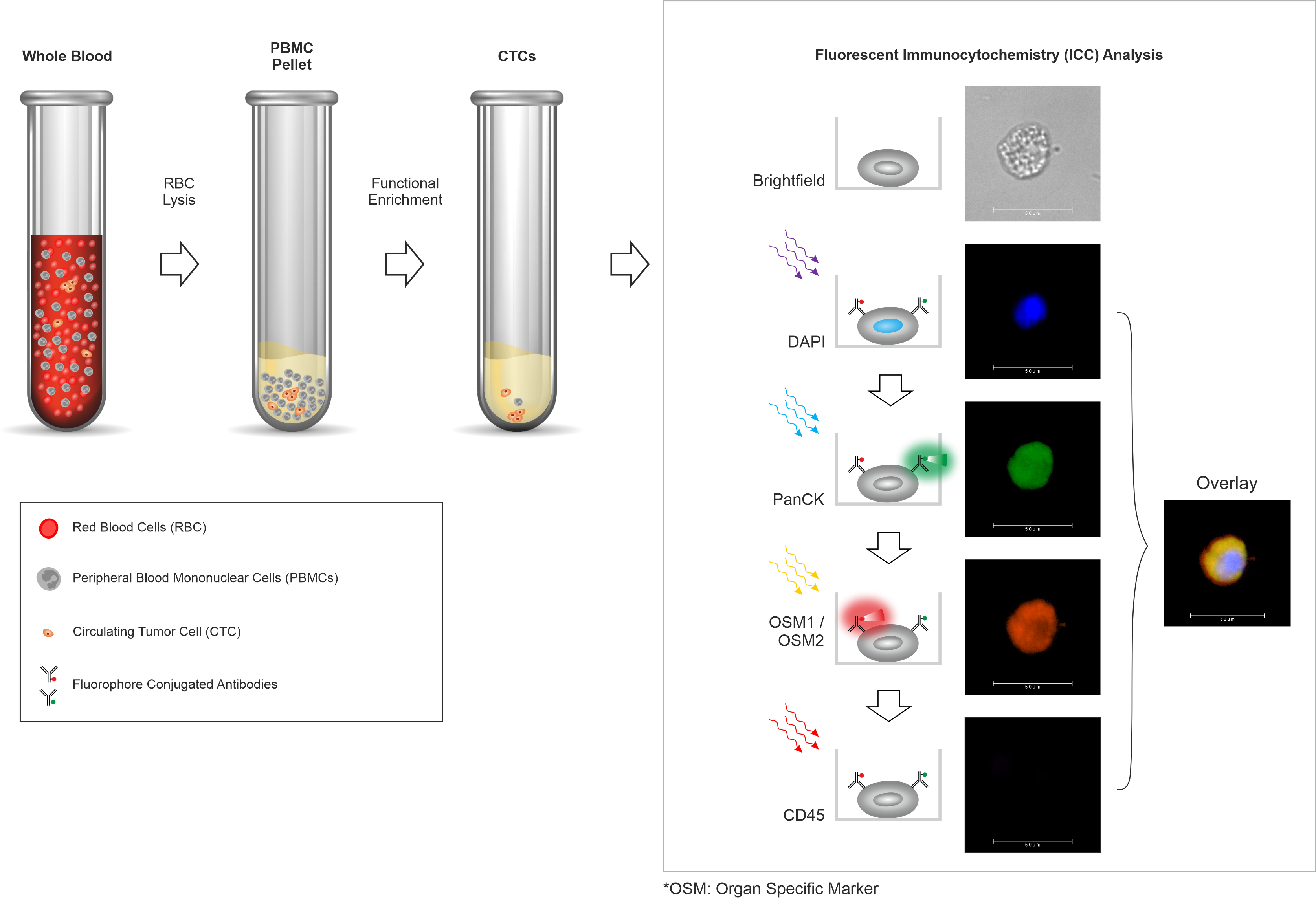 EasyCheck 360® has been developed and validated by analysis of more than
40,000 samples in large cohort studies which have established its high accuracy.
EasyCheck 360® is currently available for:
EasyCheck 360® – Multi Cancer can Detect 30 Types of Cancers
EasyCheck 360® – Multi Cancer test can detect cancers early that originate in the Oral Cavity, Lungs, Breasts, Esophagus, Stomach, Liver, Pancreas, Gallbladder, Kidney, Ovary, Cervix, Prostate, Bladder.
• Adenocarcinoma (AD): Bile Duct, Breast, Colon, Esophagus, Gallbladder, Liver, Lung, Ovary, Pancreas, Prostate, Rectum, Salivary Gland, Small Intestine, Stomach, Thyroid, Uterus, Biliary Tree.
• Hepatocellular Carcinoma (HCC): Liver
• Renal Cell Carcinoma (RCC): Kidney
• Squamous Cell Carcinoma (SCC): Anal Canal, Cervix, Esophagus, Oral Cavity, Head and Neck, Lung, Penis, Vagina, Vulva, Skin
• Transitional Cell Carcinoma (TCC): Bladder, Renal Pelvis, Ureter
EasyCheck™ – Pragma
EasyCheck™– Pragma Breast, Lung, Stomach, Colon, Liver, Pancreas, Bladder, Ureter, Renal Pelvis and Kidney (F + M), Ovary (F), Prostate (M)
EasyCheck 360® is a safe and reliable test that can help detect cancers  early and more effectively. Early detection of cancers can help physicians make important life-saving diagnostic and clinical decisions.